Back in May, I created an installation at El Rincon. I also curated an art show. Here is a photo of the installation.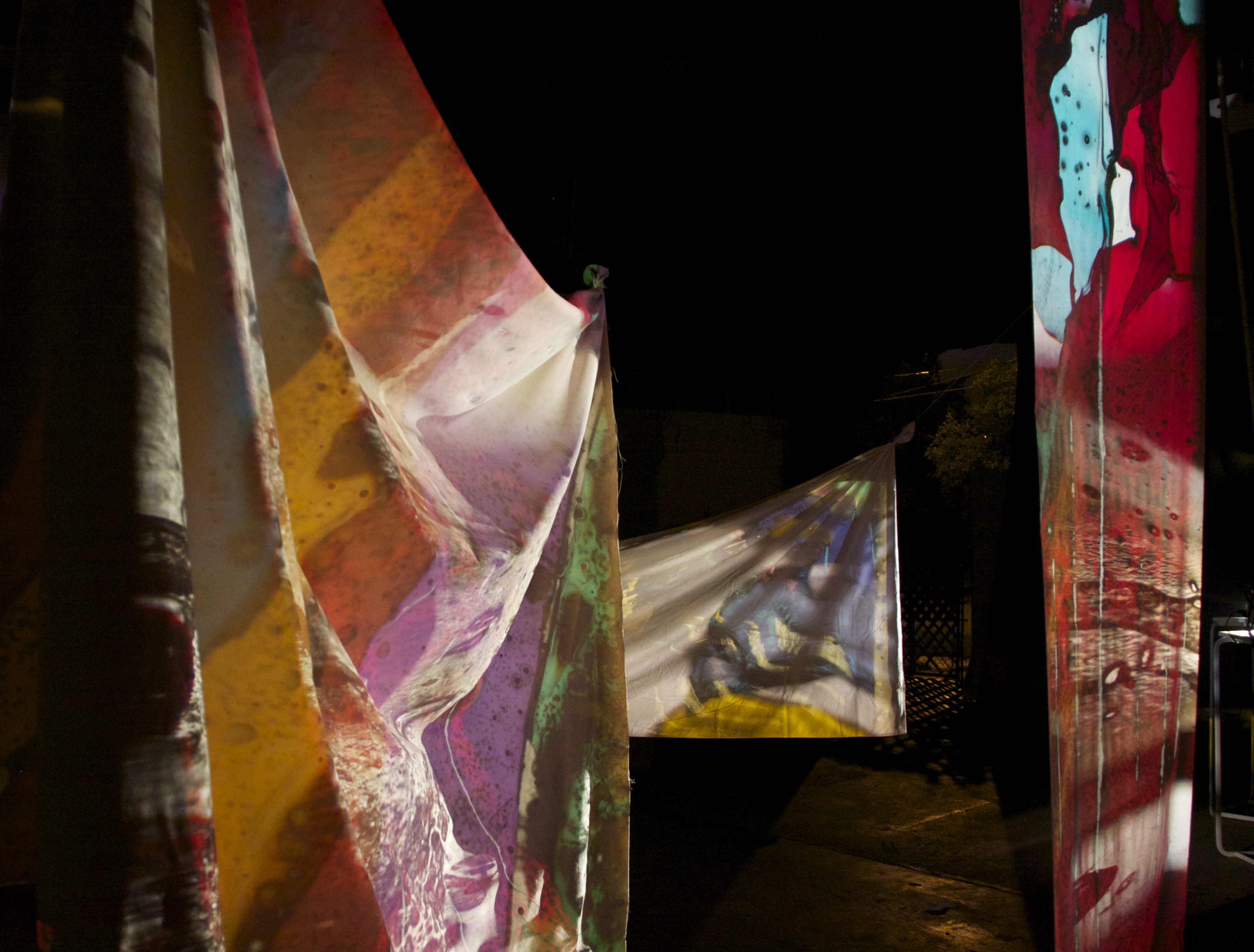 The opening was May 16th, with a performance by Architects of Cinema and Alex Tu. On the 24th, I played in a trio with Ronnie Yates and Ryan Edwards. Melanie Jameson, Rebecca Novak, Parham Daghigi and Steve Jansen performed in an ensemble.
Here is my curatorial statement and a list of the included pieces:
The Transferable Image: Art, Performance & Sound
El Rincon Social
3210 Preston Street, Houston TX
May 16 & 24th, 8:30-11PM
Curated by Sandy Ewen
Compare the relationship of art as an object to art as a transferable image. We are asking: where does art live? In 3dimensional reality, as a digital file, as a print? Projection? Installation? Experience? Memory?
This show presents a variety of work that deals with the fluidity of art mediums & the recycling of image, sound and object through a variety of art pieces. Ewen's work in particular lives in this type of flux. Hand made slides become projections, projections become installations, installations become performance, become video, become performance again. Materials shift from physical object to photograph and mediums are repeatedly collaged, recycled & reimagined.
Presented alongside Ewen's work are assemblages, drawings and performances by local artists including Damon Smith, Alex Tu, Rebecca Novak, Traci Matlock & Y.E. Torres and Ben DeSoto. These works repurpose materials, memories, and older artworks to create new work. The artworks are enriched through the reuse of materials and ideas. They become tied to their histories and suggest a dialogue through time, creators & objects.
Projection Installation
Fabric, wire, string, projectors & handmade slides
Sandy Ewen, 2010-2014
thanks to Chris Nelson, Ryan Edwards
& Damon Smith for assistance.
Videos
Chris Nelson, Sandy Ewen & Y.E. Torres, 2012-2014
Three Photographs
Traci Matlock & Y.E.Torres, 2014
Untitled
24×36 Archival print, edition of 1
Sandy Ewen, 2014
Source
Plastic & mixed media
Sandy Ewen, 2014
Mountain
30×36 Archival print, edition of 1
Sandy Ewen, 2013, printed 2014
Apparition
30×36 Archival print, edition of 1
Sandy Ewen, 2013, printed 2014
Time & Distance
Recycled aluminium
Alex Tu, 2014
Seven Photographs
Ben DeSoto
Lilacs in the Rain/One Hour With You/
I Had the Craziest Dream/El Rancho Grande/Exodus
Rebecca Novak, 2014
Painting in three parts on fabric
Daniel Healey & Damon Smith
Box in Nazareth
Acrylic & photo on clayboard
Damon Smith, 2014
Untitled
Collage on foam core
Damon Smith 2012
DMA
Acrylic, oil, oilbar, graphite & collage on linen
Damon Smith
Roll of paper on wood used in "Branches"
Damon Smith, 2014
Triptych from C.O.
Collage on illustration Board
Damon Smith, 2014
Used Paint
Latex paint, dirt, washers, screw
Damon Smith / Patrick Renner, 2014
Untitled
Rust, graphite, gesso on paper
Damon Smith, 2014
Untitled
Acrylic & gel medium on panel & canvas
Damon Smith
Chance Triptych
Damon Smith, 2014
Heart
16×20 Archival print, edition of 2
Sandy Ewen 2014
Remnants 2
16×20 Archival Print, edition of 2
Sandy Ewen 2014
Image of the Source (previously Untitled)
16×20 Archival print, edition of 2
Sandy Ewen 2014
Untitled
Styrofoam, crayon & wire
Sandy Ewen, 2014
Performance relic. Expired icon.
projector lamp, wire, frame.
Sandy Ewen, 2014
Holes & Loops
Wire, frame, plastic.
Sandy Ewen, 2014
Inverted Packing Material
Wire, frame, packing material.
Sandy Ewen, 2014
Untitled
16×24 Archival print, edition of 1
Sandy Ewen, 2014
Untitled
Frame, beeswax, crayon, plastic, etc.
Sandy Ewen, 2014
by Sandy
I had a piece of artwork selected to be in the Lawndale Big Show 2014. It is a slide projector with 80 handmade slides. I've been making slides for a few years now for use in installations & with music performance. Each slide takes a substantial amount of time to make, so getting 80 together that don't jamb up the projector has taken some time. It's up on the 2nd floor, go check it out.  July 11 – August 9, 2014
http://www.lawndaleartcenter.org/events/bigshow/bigshow2014.shtml
by Sandy
I've got an art show up at Galeria Regina, now until May 4. 1716 Richmond Av. Houston, TX. Gallery hours are 1-5 on Saturdays & Sundays.
I'll be doing an artist talk on April 5th at 7:30, after that I'm heading up to 14 Pews (800 Aurora, Houston) to play guitar in a quintet with Parham Daghighi, Steve Jansen, Damon Smith & Chris Cogburn. Also performing that night will be John Wiese. Should be a great evening!
by Sandy
I've got a new album, and it's up over at http://sandyewen.bandcamp.com/
Please take a listen. It was recorded on the cusp of 2012/2013 by Ryan Edwards. We had several recording sessions, the album is culled from 3.5 hours of material. I'm hoping for a physical release of it at some point (probably LP) but for now the digital is up, and I'm also selling lovely giclee 12×12 prints of the cover art. It's called Tributaries.
by Sandy
When I get back from NYC, I'll be playing some Texas gigs with Dutch avant-vocalist and legendary sound poet Jaap Blonk with Damon Smith & Chris Cogburn. 
Thurs. May 31 2013 8PM w/Jaap Blonk, Damon Smith, Chris Cogburn
High Wire Arts in San Antonio http://highwirearts.com/
326 West Josephine, San Antonio 78212
Sat June 01 2013 8PM w/Jaap Blonk, Damon Smith, Chris Cogburn
Carousel Lounge 1110 E 52nd St., 78723
by Sandy
I'm in NYC right now.
Sun. May 26 2013 6PM duo w/ Weasel Walter
Downtown Music Gallery – 13 Monroe Street, New York, NY 10002-7351
Thu. May 23 2013 8PM w/ Lucio Menegon, David Grollman
Panoply Performance Lab – 104 Meserole St Brooklyn, NY 11206
Tue. May 21 2013 8PM duo w/ Joe Merolla
Jack NYC – 505 1/2 Waverly Ave., Brooklyn, NY
Mon. May 20 2013 – duo w/ Tom Carter
Eyebeam – 540 W 21st St. New York, NY 10011
by Sandy
Projection & Amplification
Sandy Ewen
November 2 – December 14, 2012
Fresh Arts invites you to Projection & Amplification, a solo exhibition of microcollage work,
video projections, and live experimental music by multimedia artist Sandy Ewen. Ewen's
microcollages, enlarged through projection and digital printing, are an exploration of
material and technique. Using a unique process pioneered by the artist, natural materials
and polymers are torn, liquefied, scorched, melted, cut, and fused. When enlarged, the
microscopic nuances of these manipulations are manifested in exquisite detail.
Opening Reception: Friday, November 2, 6 – 8 p.m.
Second Saturday Open Studios: November 10, 2 – 5 p.m.
Free and open to the public
Performance Schedule:
November 2 @ 8 p.m.: Tim Feeney/Nick Hennies/Greg Stuart Trio, Cyclea with
projections by Sandy Ewen
November 16 @ 10 p.m.: Weird Weeds, Plutonium Farmers
November 17 @ 8 p.m.:  Compositions by Nick Hennies for vibraphone and large ensemble
November 30 @ 8 p.m.:  Projections and Improvised Sound: Ewen/Smith/Novak, Helton/Jindra, Illicit Relationship
December 7 @ 8 p.m.: Sandy Ewen Solo Guitar, Continuum performance art & Black Leather Jesus
December 14 @ 8 p.m.: Architects of Cinema performance ensemble featuring Sandy Ewen, Y. E. Torres & Chris Nelson
$5 suggested donation to support the performers
Fresh Arts | Arts Resource Center
2101 Winter Street, #B-11
Houston, TX 77007
713.868.1839
www.fresharts.org
by Sandy